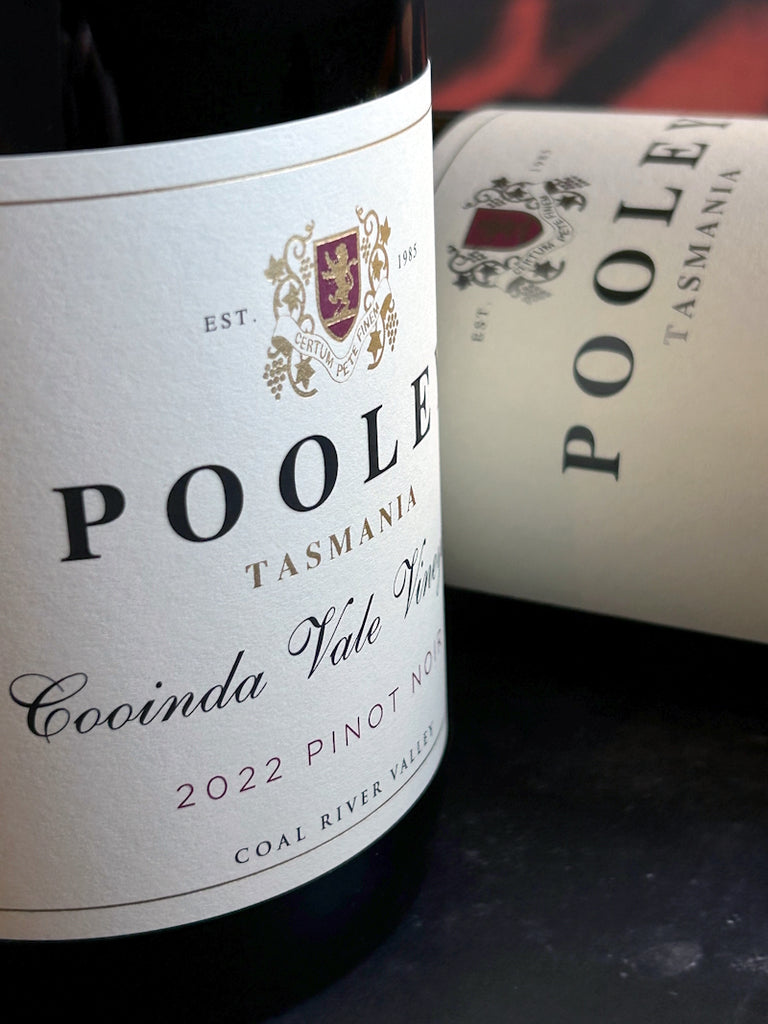 MIXED SIX comprises 2 x 2022 Cooinda Vale Pinot and 4 x Pooley CRV Pinot
Pooley is one of Tasmania's long-established producers, with vines originally planted by the late Margaret & Dennis Pooley at their Cooinda Vale property in the Coal River Valley in 1985. The Pooley estate now includes Butcher's Hill on the outskirts of Richmond. Anna Pooley and Justin Bubb make the wines.

2022 Pooley Cooinda Vale Pinot Noir: ONLY AVAILABLE IN THE MIXED SIX. Made entirely from the original estate, planted in 1985. Michele's notes: Fascinating bouquet of dark raspberry, stone, anise, coffee and rare beef, along with a whiff of Parmesan crust - the balance of fruit to umami elements is excellent. So silky already, gliding weightlessly across the palate and leaving a tantalising impression of briary fruit, sweet bacon fat and gentle/chalky tannins. Power, with purity.
2022 Pooley Pinot Noir (Coal River Valley blend): Fruit from Butchers Hill and Cooinda Vale vineyards plus selected growers in the region. Michele's notes: Dark ruby with magenta flashes. Intriguing and complex aromas of cherry/berry with meaty/foresty elements plus notes of Szechuan pepper, mace and orange zest. The acid is lively and supports the ripe cherry fruit and fine tannins. A very tasty and characterful Pinot.