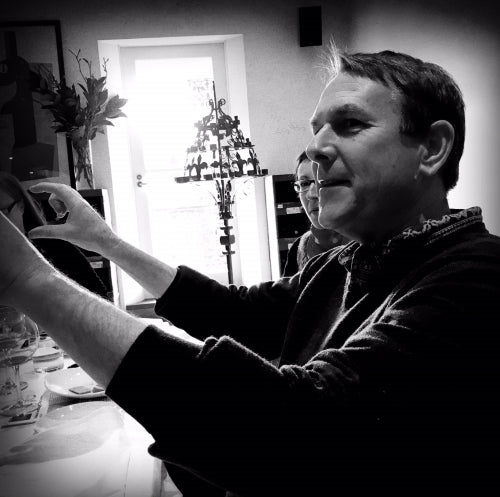 The Concept of Noble Place in New World Winegrowing
Ted Lemon
Good afternoon.  I want to thank the Mornington Penninsula Vignerons for inviting Littorai and Burn Cottage to this festival.  As I thought about the presentation of our wines, I asked myself what we might bring that would be of greater value than a simple tasting of wines of recent vintage.  In order to place the following comments in proper context, you will need to know a little of my own winegrowing path.  I began my career by living, working and studying enology in Burgundy for four years.  I left for California and worked in Napa Valley and then later as a consultant to wineries from Oregon to Monterrey County.  My wife Heidi and I began Littorai in 1993.  The wines come from what we call the true North Coast, the coastal hills of Sonoma and Mendocino counties.  I began to work with the Sauvage family at Burn Cottage Vineyard in Central Otago in 2002.
*************************
In the introduction to Roger Dion's extraordinary work "History of the Vine and Wine in France from its Origins to the 19th Century", originally published in 1959, Dion explains that in the 16th century the wines produced from the area around Paris were considered equal to the very best of Champagne.  In Dion's research, average temperature, average summer sunlight hours, frequency of spring frost and humidity were all slightly in favor of the Paris region.  Dion is shocked that in a country where the vine enjoys the greatest prestige, the public is utterly ignorant of this important past. Dion states:
"Perhaps this ignorance is an effect of this very prestige.  We would rather find that the virtues of French vineyards are the gift of natural privilege, a particular heavenly grace bestowed upon the earth of France.  It is as if there was more honor for our country in receiving its viticultural fame from Heaven rather than from the toil of men, a viticultural fame in which our ancestors found a subject of collective pride even before the notion of a French nation existed.
"From this flow so many illusory arguments and facile explanations, filling the commonly accepted notions of viticultural history.  A great success, when it is the fruit of long and hard work, makes the latter vanish."
As a young man living in Burgundy, these words struck me like thunder.  There was a great and forgotten wine in Paris?  So the great terroirs are not set in stone.  They reflect human cultural, economic, political and agronomic history.  A single detour here or there and the great sparkling wine of France could have come from the region of Paris.  Great terroir does not exist. It is built.  It is built from millions of blocks of historical, cultural, economic, scientific and agronomic pieces.
If terroir is a human construct, why not become a carpenter?  If, in the course of time, the pre-eminence of certain famous viticultural regions is due to that same history, that position will change across the history which we are in the act of building today.  This may sound like a call to defiance of today's most famous regions, but that is not the point.  Dion's words had freed me.  Great dirt is neither sentimental nor xenophobic.
Thus, when I returned to the US from France, I had understood what I now call the concept of noble place. This concept, which lies at the origin of all the great viticultural regions, is not only distinct from the notion of terroir, but precedes it.  Noble places, ready to reveal their secrets, are hidden all over the temperate regions of the earth.  They lie hidden in European vineyards which were once famous but now lie forgotten.  And they lie hidden in the virgin regions of the so-called New World.   Rather than us presuming to have terroir, let us challenge ourselves by asking instead, do I have a noble site?
*************************************
Finding a noble place is only the first step in the winegrowing process.  One cannot create unique wines which are faithful to their noble sites in the New World, without training.  One must first have an education in terroir-based tasting and such an education remains largely based on European wines.   Without this, new world great terroir wines are not possible.    I look forward with enthusiasm to the day when a library of New World terroir wines is available to us all!
While we acknowledge the important training which Europe provides, it is time for the day of the disciple to die.  Remember that great terroir is composed of historical, cultural, economic, scientific and agronomic components.  There will never be pure, great and true New World terroirs until we accomplish the esthetic and cultural parts of building the edifice.  I would like to suggest some guidelines for this process. 
1.       Look inward .  Yes, I know that the winewriters will complain you already don't know enough about Old World Wines!  Do not measure all things against the old world. And above all do not see Burgundy as a measuring stick.   We must be like Odisseus, lashing ourselves to the mast of the ship in order to resist the siren song of the maidens of Burgundy.
2.       Discover the biology of terroir.
 The history of twentieth century European viticulture is the history of growing amnesia to the biological dimension of terroir.   Look at most viticultural text books from the twentieth century and you will find the only biological element to be the vine itself.  The rest is all chemistry and photosynthetic pathways.  There is nary a worm in sight.  Yet from what derive the limestones which made Burgundy famous?  Living creatures.  In the 20th century Europe nearly forgot that the biology of terroir is as important as the chemistry.   
We are destroying vast areas of New World viticulture to an outdated and dangerous model.  Marlboro, The Russian River, Napa Valley, Monterrey county and other regions are monocultural wastelands.  This must not continue.
3.       Practice alternative forms of agriculture.  Regardless of how one might feel about biodynamic agriculture, there is a veritable a la carte menu of extraordinary alternative agricultural practices available now:  organic, permaculture and, agro-ecological agriculture.  Stop planting vines.  Plant companions.  Kate spoke of "letting things be as natural as possible" in relation to the Larmandier wine in our very first flight.  Agriculture is not natural.  To promote natural balance,  healthy ecosystems and thereby site-specificity in agriculture requires that we actively promote agronomic health thru bio-diversity. 
4.       Learn to taste in a new way.  Jacky Rigaux in Burgundy  is doing some very interesting research regarding how we taste for site signature.  This work relates directly to having a terroir-based education. He calls it  "la degustation geo-sensorielle", geo-sensory tasting  and  claims that earlier generations of Burgundian tasters were not interested in the details of aromas but that notions like "sapidite", "texture" and "la bonne salive", were essential to understanding the difference between crus.  This is a thought provoking contrast to our latter day focus on aromas.  Huon said on day one that perfume is what we love about Burgundy.  This view sees aromas as fleeting and secondary. 
5.       Give up being a winemaker.  Become a student of terroir.  Have the confidence to listen and allow the site to speak to you and to discover its uniqueness.  Make a place for the mystery of wine in your cellar.  Notice how over the last two days we have all made knowing pronouncements about the potential evolution of the wines we are tasting.   Maybe we are all wrong.       
6.       As a corollary to giving up being a winemaker, give up additives .  This does not require you to become a "natural" winemaker;  it is a path of evolution.  Make it a point to stop acidifying.  You will be amazed how it will focus your attention like a laser on better vineyard husbandry and alternative cellar practices.
7.       Most importantly of all, abandon the quest to make great Pinot Noir.  Your job is to craft wines which are the most honest, crystalline expression of their place and then let others decide if they feel that your efforts are worthy. 
**********************************************************
Ted Lemon's Littorai Pinot Noirs are available in very small quantities