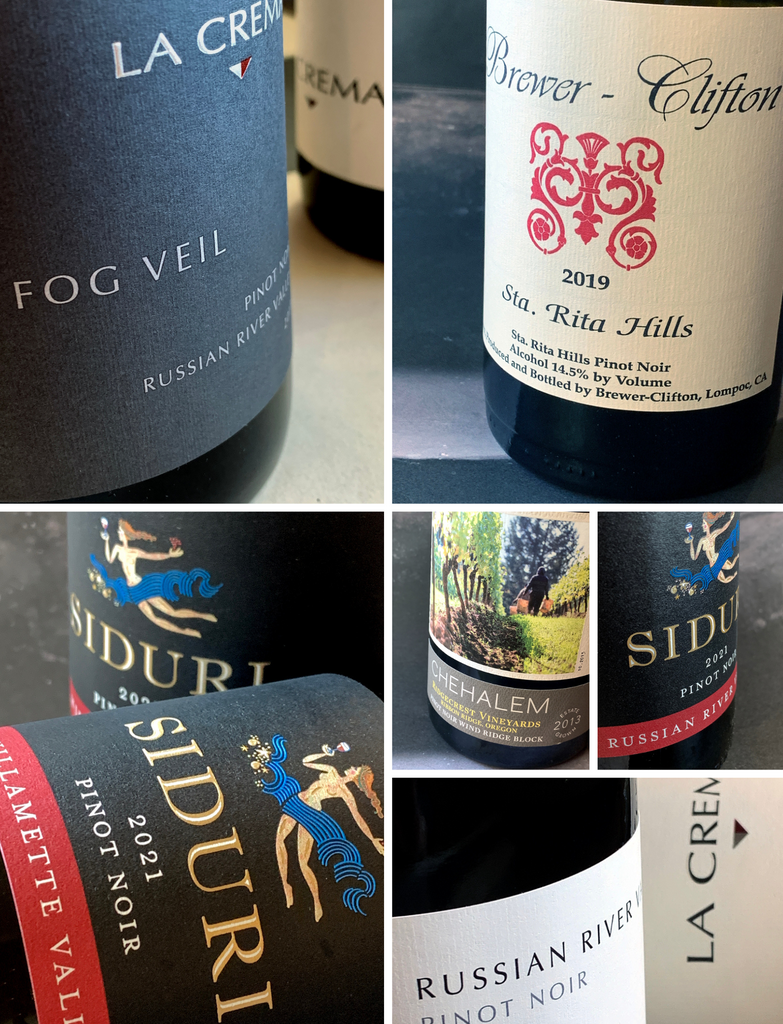 USA California & Oregon Pinot Sample 6 pack
Winery : Various
SAMPLE SIX contains one each of the following wines - 

La Crema 2018 Fog Veil Russia River V Calif. Pinot Noir: Seductive perfume of cherry ripe and roses. Perfectly weighted; the soft fruit, spice, acid and gentle oak are in harmony. The flavours build.
Brewer Clifton 2019 Santa Rita Hills Calif. Pinot Noir: Vivaciously perfumed - raspberry, wet stone, blood. So silky and flavoursome, the acid supports the ripe fruit. Characterful.
Siduri 2021 Willamette Ore. Pinot Noir: Briar fruits, bakery, earth and gamey notes. The aromas lift with breathing. In the mouth, it is focused and linear with sweet beets and anise.
Chehalem 2013, Ribbon Ridge Ore. Pinot Noir: Earth and forest floor, plum skin, blackberry, rosewater and cedar box, with a hint of tobacco on the nose. The palate holds a core of tannin and restrained fruit, with lingering flavours of violet, cherry cola, spicy barrel and a gorgeous tension between acid, fruit and texture. 
Siduri 2021 Russian River V Calif. Pinot Noir: Bold, deep crimson/magenta. rich dark briar fruits and red roses on the nose. Sleek flow across the palate with the sweet, ripe fruit balanced by fine and slightly astringent tannins, reminiscent of candied violets.
La Crema 2019/2021 Russian River V Calif. Pinot Noir: Fine floral perfume, with roses and lifted cardamom spice. Blackberry and other juicy briar fruits dominate the palate, which has terrific pinot energy, suppleness and balance. Refreshing acidity.