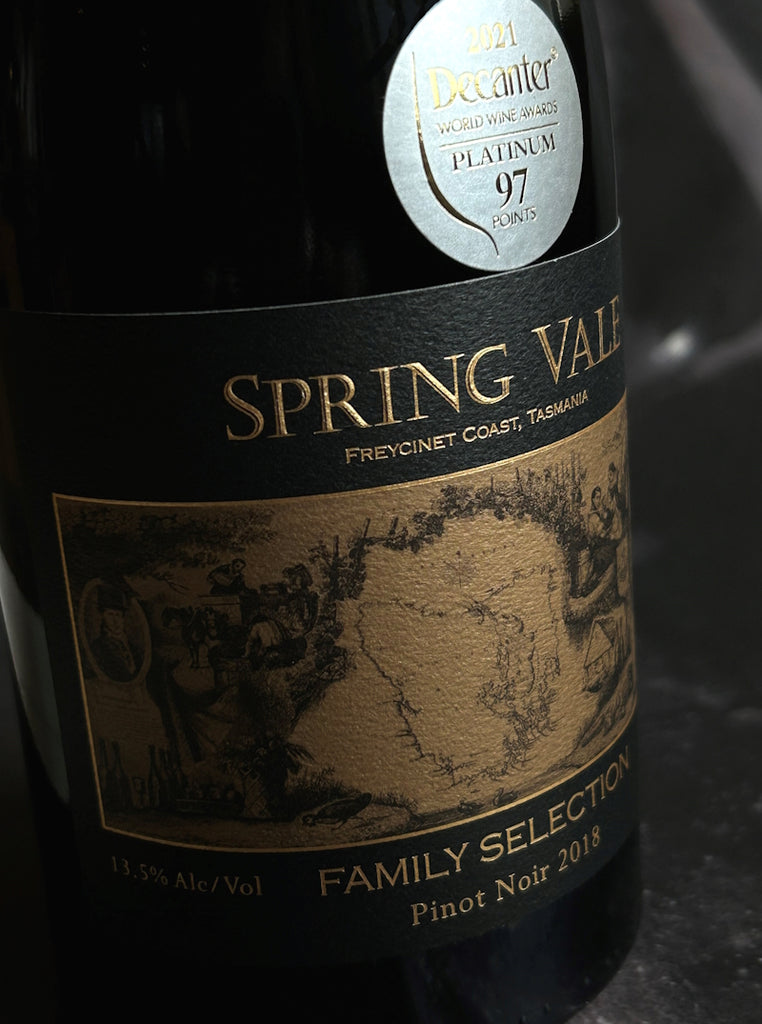 MIXED SIX contains 1 x 2018 Family Selection Pinot and 5 x Estate Pinots
Spring Vale, from Cranbrook on Tasmania's East Coast is one of Tasmania's best-known vineyards. The Lyne family whose generations have farmed Spring Vale since 1875, diversified from sheep farming to grape growing in the 1980s. Rod Lyne and son Tim are the current custodians.
Spring Vale 2018 Family Selection Pinot Noir (value $130): Decanter Wine Awards 2021 Platinum Award 97 points ONLY AVAILABLE IN THE MIXED SIX

Michele's notes: Beautiful ruby/garnet hues. Red cherry notes mingle with cinnamon spice, beetroot and umami elements. Surprisingly bold in the mouth, given the medium density hues, and incredibly persistent. Briary and foresty notes mingle with the delicious fruit. Lithe, tasty and quite divine.
Spring Vale 2020 Estate Pinot Noir: Michele's notes: Rich crimson. Complex aromas of plum, meaty/ferrous/stone elements with pizza thyme, tobacco leaf and violet. Lithe, supple and flowing in the mouth. Exceptionally tasty fruit, with a nice note of glycerol which keeps the flavours lingering. Terrific balance overall of fruit and savoury elements.