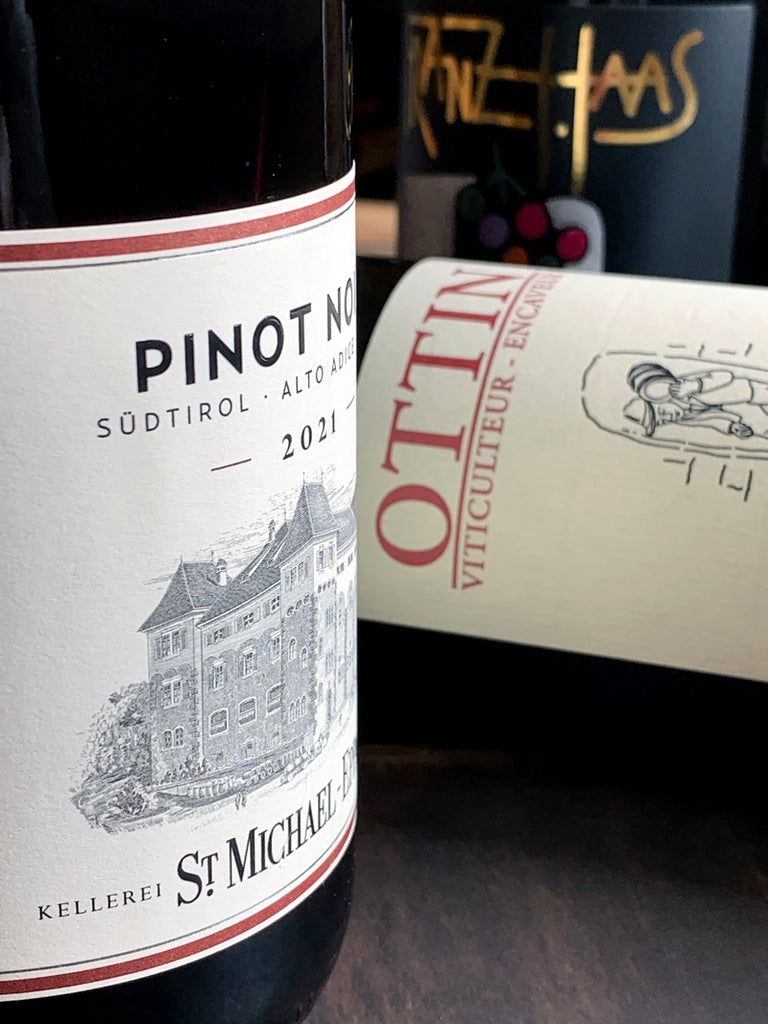 Italian Pinot Noir
Winery : Various
MIXED SIX contains 2 each of the wines listed below
Valle d'Aosta (or Vallee d'Aoste FR), in the far north-west, is Italy's smallest DOC wine region. While it is an alpine region, the climate is continental - hot and dry in summer, with marked differences in temperature between day and night. Most of the grapes grown here (75%) are red varieties including pinot noir (AKA pinot nero).  Alto Adige or Sudtirol as it is also known, is north of the Veneto in Italy's north east. The region is famed for its fragrant white wines, but pinot noir - referred to as the 'secret majesty' among other red varieties grown here - is much admired.
Ottin 2020 Pinot Noir (Valle d'Aosta): Michele's notes: Medium depth; garnet and ruby hues. Invitingly fragrant with wet stone, raspberry brioche and delicate spice. Alluring. Sweet/savoury elements on the palate with morello cherries and ultra fine tannins. Clean and balanced finish with excellent persistence of flavour.
Franz Haas 2020 Pinot Nero (Alto Adige): Michele's notes: Medium ruby. Dark cherry, briar fruits and cola on the nose. Round, soft fruit in the mouth with tasty meaty/mushroomy notes. Silky and sleek with delicious nutty oak flavours to complement the dark fruits.
St Michael Eppan 2021 Pinot Noir (Alto Adige): Michele's notes: Medium weight with ruby hues. Pretty nose of cherry and thyme flowers, almond and pencil shavings. Sweet and sour cherry elements on the palate with a nice touch of glycerol texture. The dry and chalky tannins finish things off nicely and the fruit flavours pull through. Not a weighty pinot but there is plenty of flavour.